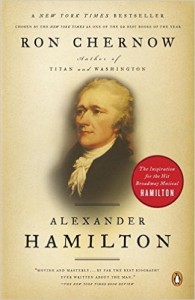 As you might have noticed, Kait, Renata, and their special guest, Bossy Dame Sophie, read Alexander Hamilton by Ron Chernow and have been listening to the Broadway cast recording of Hamilton the musical non-stop. We want you, too, to be in the room where it happens, so we recorded this special Best Bestseller bonus episode to discuss our love of Hamilton and do some readers advisory for both the biography and the musical. We also played some Founding Father FMK. We hope you'll be satisfied with the scope of our minds at work on all counts! You don't have to wait for it–if you're able to take a break this holiday season, add some more items to your overflowing TBR list!
Readers advisory: Here.
Footnotes: @Lin-Manuel on Twitter

Lin-Manuel Miranda Discusses How Hip-Hop Influenced Him and Hamilton
All the Hip-Hop References in Hamilton: A Track-by-Track Guide
How Lin-Manuel Miranda Shapes History
Playlist: The Sounds That Shaped Hamilton
Sophie's HamilFeels Spotify Playlist
Read Lin-Manuel Miranda's Genius Annotations for Hamilton
Lin-Manuel Miranda on Jay Z, The West Wing, and 18 More Things That Influenced Hamilton
Coming up next: Bests & Worsts of 2015 (Part 2, Adults and Graphic Novels)
* Worst Bestsellers is a participant in the Amazon Services LLC Associates Program, an affiliate advertising program designed to provide a means for sites to earn advertising fees by advertising and linking to Amazon.com.
(But no pressure, we're also happy if you get these items from your local library or independent bookstore.)
Podcast: Play in new window | Download
Subscribe: RSS