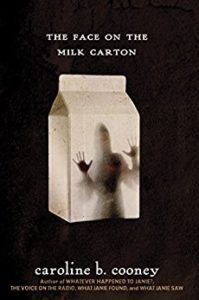 It's Flashback Summer. Do you know where your daughter is? Have you looked on your beverage container? Jenny (definitely not Janie), Co-Founder of Grinnell College's Caroline B. Cooney Book Club, joined us to discuss The Face on the Milk Carton. Join us for this wild dive into the world of cults, dairy products, and microfilm!
Readers advisory: Here.
Patreon shout-out: Thanks to Ai for supporting our Patreon! Check out their podcast Decoding Keanu.
Footnotes: 'Resentments I Have Formed Against Characters From "The Face On The Milk Carton" By Caroline B. Cooney' by Mallory Ortberg
'The Face on the Milk Carton' Grows Up
Frequently Challenged Young Adult Books
The Face on the Milk Carton movie
When Bad News Was Printed on Milk Cartons
99% Invisible – Milk Carton Kids
The Devil's Elbow: 'The Stranger' Recap
Who Killed Lois Duncan's Daughter?
I Am Feel Uncomfortable When We Are Not About Me?
Candy pairing:  Jenny says something you're allergic to or chocolate that is not Rainforest Alliance certified, Kait says Oreos, Renata says fruit juice popsicles.
Coming up next: The Dark Archer by John & Carole Barrowman.
* Worst Bestsellers is a participant in the Amazon Services LLC Associates Program, an affiliate advertising program designed to provide a means for sites to earn advertising fees by advertising and linking to Amazon.com.
(But no pressure, we're also happy if you get these items from your local library or independent bookstore.)
Podcast: Play in new window | Download
Subscribe: RSS