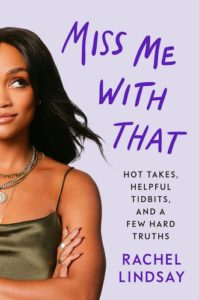 We are once again returning to the rosy world of The Bachelor with our special guest Rebecca Kim Wells (@RebeccaWriting), Bachelor fan and the author of Shatter The Sky, Storm The Earth, and Briar Girls. This time we had the good sense to read Miss Me With That by Rachel Lindsay, a woman who found love on reality television and then was smart enough to walk away from the franchise.
Readers advisory: Here.
Footnotes: Episode 159 – The First Time
"Rachel Lindsay and Raven Gates: A Timeline of the 'Bachelor' Alums' Friendship and Falling Out" by Erin Crabtree
"Alexis Is Dolphinitely A Shark On 'The Bachelor'" by Martha Sorren
'The Bachelorette': "Whaboom" Guy Admits He Went on the Show for Fame" by Christina Schoellkopf
Coming up next: How To Be a Boss Bitch by Christine Quinn.
Podcast: Play in new window | Download
Subscribe: RSS