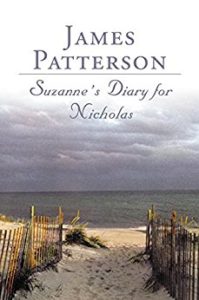 In Part 2 of our Big Podcast Crossover Event with I Don't Even Own A Television, J.W. and Collision joined us to discuss James Patterson's Suzanne's Diary For Nicholas. It's a beautiful example of the power of Telling, Not Showing. Specifically, telling your children all about your sex life with way too much detail. Turn off your Macy Gray albums and get ready to dive into a book so stupid that it took four book podcasters to fully unpack it!
Content warning: This book and our discussion of it contains both miscarriage and the death of an infant.
Readers advisory: Here.
Footnotes: I Don't Even Own A Television #102 – Maximum Ride
Episode #61 – Bridges of Madison County
Dave Malloy – The Whale As A Dish (from Moby Dick)
Dave Malloy – A Squeeze of the Hand
Shoba Narayan Performs A Song From Dave Malloy's Moby Dick
Candy pairing: Collision says butterscotch hard candy, J. W. says Buttered Popcorn Jelly Bellies, Kait says Jolly Ranchers,  Renata says an elaborate caramel apple.
Congratulations to Melinda, who won our #BygoneBadassBroads pin giveaway! And thanks to everyone who entered and supported Trident Books. We may have more things to support Trident through the aftermath of their fire, so stay tuned!
Coming up next: Having It All by Helen Gurley Brown.
* Worst Bestsellers is a participant in the Amazon Services LLC Associates Program, an affiliate advertising program designed to provide a means for sites to earn advertising fees by advertising and linking to Amazon.com.
(But no pressure, we're also happy if you get these items from your local library or independent bookstore.)
Podcast: Play in new window | Download
Subscribe: RSS