If you were not aware, the greater Boston area is lucky enough to be home to a whole gaggle of awesome independent bookstores. While we try not to play favorites, it's hard to deny that Trident Booksellers and Cafe on Newbury Street in Boston holds a special place in our hearts–it was the location of our first live show, after all!
Last week, a small fire broke out at Trident on Wednesday night. While, luckily, no one was hurt, the store and its inventory suffered a lot of property and water damage. They're closed until further notice.
It's no secret that independent bookstores like Trident are an endangered species in the Amazon Prime economy, so being out of commission like this could be disastrous. Luckily, they're still taking online orders and selling giftcards (which can be used online!) while their brick and mortar store is temporarily closed. SO, as an incentive for you to spend some $$$ there, we're holding a giveaway!
Friend of the show Mackenzi Lee (as heard on Episode 86 – The Amorous Intrigues and Adventures of Aaron Burr), who works at Trident, is hitting the road to promote her new book, Bygone Badass Broads, and she's taking some great swag with her, like enamel pins showcasing some of the awesome ladies of the past. We've gotten our hands on one of them and we're raffling it off in support of Trident!
All you have to do is buy something from Trident's online store, including giftcards, and forward us a proof of purchase to worstbestsellers(at)gmail.com. Everyone who does will be entered into a drawing (powered by RandomPicker.com) for this awesome pin AND even if you don't get chosen for the pin, we'll send you a Worst Bestsellers-themed postcard! It doesn't have to be a specific price or item, BUT if you would like to double dip, Mackenzi is also offering an incentive for shopping at Trident right now–if you buy a giftcard for $18 to pre-order The Lady's Guide to Petticoats and Piracy, she'll send you an exclusive short story from the world of The Gentleman's Guide to Vice and Virtue! (Instructions here.)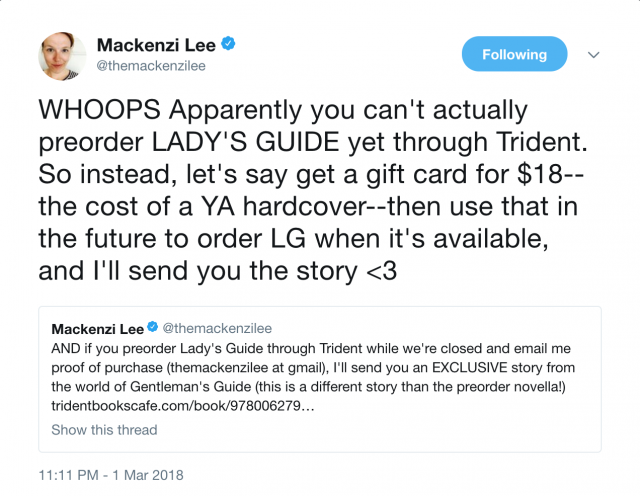 In short:
Send us proof of your order by Sunday, March 25, including your mailing address. (International addresses are fine!)
We will send you a cool Worst Bestsellers postcard and you'll be entered to win the Irena Sendler pin!
If you're one of our Patreon patrons (at any level), be sure to let us know in your email, and we'll give you double raffle entries!
We'll announce the winner here on the website on Monday, March 26 when we put up that Monday's podcast episode.
Not sure what to buy? Here are some of Kait and Renata's favorite books they read in 2017 (as discussed here and here) for some inspiration: