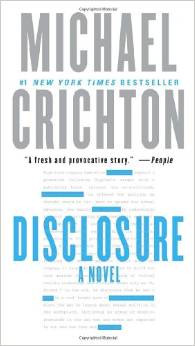 Kait, Renata, and returning guest Caroline (of Fantastic Fangirls and Panels) read Disclosure by Michael Crichton. It's the ultimate sci-fi horror story for white men: a woman sexually harasses a man and lies about it, and everyone believes the woman! Luckily, the intrepid hero is able to use high-tech 1993-era virtual reality to solve his problems and put that lying lady in her place. Prepare your dialup modem for our 20th episode of #MisandryMonday!
Readers advisory: Here.
Footnotes: Michael Crichton's notes on Disclosure
Clip from Community's VR episode
Special note: We're still raising money for a few charitable causes! Please support us here!
Candy pairing: Caroline says Peepsters, Kait says Lifesavers Holes, Renata says a Yorkie bar.
Coming up next: City of Bones by Cassandra Clare.
* Worst Bestsellers is a participant in the Amazon Services LLC Associates Program, an affiliate advertising program designed to provide a means for sites to earn advertising fees by advertising and linking to Amazon.com.
(But no pressure, we're also happy if you get these items from your local library or independent bookstore.)
Podcast: Play in new window | Download
Subscribe: RSS