Tune in to our Bests & Worsts of 2017 episodes to hear us discuss these titles and read excerpts from our favorites and least favorites! Please note:
We counted things that we read in 2017, regardless of publication year.
We didn't count anything that we read specifically for this podcast, so our worst books are aside from those.
For that reason, we picked top 5 favorites and only 1 least favorite–we have this whole podcast to talk about bad books, so for these episodes we're choosing to focus on the positive!
Some of our "worsts" are really just "least best." Listen to the podcast to hear more detail!
Adult
Kait's Top 5 Best
5.) Maplecroft by Cherie Priest
4.) The Good House by Tananarive Due
2.) Ghostland: An American History in Haunted Places by Colin Dickey
1.) The Great Comet: The Journey of a New Musical to Broadway by Dave Malloy & Steven Suskin
Kait's Worst
Renata's Top 5 Best
5.) Rich People Problems by Kevin Kwan
4.) We Are Never Meeting in Real Life by Samantha Irby
3.) The Summer That Melted Everything by Tiffany McDaniel
2.) Hidden Figures: The American Dream and the Untold Story of the Black Women Mathematicians Who Helped Win the Space Race by Margot Lee Shetterly
1.) Too Much and Not the Mood by Durga Chew-Bose
Renata's Worst
Graphic Novels
Kait's Top 5 Best
5.) Nutmeg by James Wright & Jackie Crofts
4.) Spill Zone by Scott Westerfeld, Alex Puvilland, & Hilary Sycamore
3.) Compass South by Hope Larson & Rebecca Mock
2.) Moonstruck by Grace Ellis, Shae Beagle, & Laurenn McCubbin
1.) Goldie Vance by Hope Larson, Brittany Williams, Sarah Stern, & Jim Campbell
Kait's Worst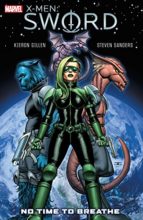 X-Men: S.W.O.R.D. by Kieron Gillen, Steven Sanders, Craig Yeung, Matt Wilson, & Dave Lanphear
Renata's Top 5 Best
5.) All's Faire in Middle School by Victoria Jamieson
4.) Mockingbird by Chelsea Cain, Kate Niemczyk, & Ibrahim Moustafa
3.) Black Panther: World of Wakanda by Roxane Gay & Alitha Martinez
2.) Jughead by Chip Zdarsky & Erica Henderson
1.) Unstoppable Wasp by Jeremy Whitley & Elsa Charretier
An excerpt from Unstoppable Wasp (click to embiggen)!
Renata's Worst
Thor: Ragnarok Prelude by Will Corona Pilgrim, Greg Pak, J.L. Giles, Jay David Ramos, et al
* Worst Bestsellers is a participant in the Amazon Services LLC Associates Program, an affiliate advertising program designed to provide a means for sites to earn advertising fees by advertising and linking to Amazon.com.
(But no pressure, we're also happy if you get these items from your local library or independent bookstore.)
Podcast: Play in new window | Download
Subscribe: RSS