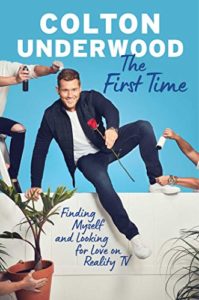 We read The First Time: Finding Myself and Looking For Love on Reality TV by Colton Underwood with our special guest Rebecca Kim Wells (@RebeccaWriting), Bachelor fan and the author of Shatter The Sky and Storm The Earth. If you didn't already know (or guess from the title), Colton was a contestant on The Bachelorette and later a Bachelor who famously told the world via reality television that he was a 26-year-old virgin. Colton brought a lot of baggage to the Bachelor mansion so we have much to unpack!
Readers advisory: Here.
Footnotes: Episode 04 – I Didn't Come Here To Make Friends
Episode 04.5 – I Didn't Come Here to Make Friends, Part 2
"Cassie Randolph Says COVID-19 Had 'Nothing to Do with' Colton Underwood Split" by Robyn Merrett
"Colton Underwood Denies Cassie Randolph's Accusations That the Former Bachelor Is Trying to 'Monetize' Their Split" by Sarah Hearon
"Bachelor's Colton Underwood Explains Where He Stands With Ex Cassie Randolph, the Truth About the New Chapter" by Johnni Macke
"Cassie Randolph Files for Restraining Order Against Colton Underwood 3 Months After Split" by Erin Crabtree
"Meet Alex Dillon, the Boston woman who dressed as a sloth on 'The Bachelor'" by Kevin Slane
"The 15 Best Looks From Colton's 'The Bachelor' Season Premiere Are So Damn Cute" by Theresa Massony
Candy Pairing:  Kait says fundraiser candy for a football team, Rebecca says Three Musketeers, Renata says the cherry on top of a Steak N Shake milkshake.
Coming up next: Wait Till Helen Comes by Mary Downing Hahn.
* Worst Bestsellers is a participant in the Amazon Services LLC Associates Program, an affiliate advertising program designed to provide a means for sites to earn advertising fees by advertising and linking to Amazon.com.
(But no pressure, we're also happy if you get these items from your local library or independent bookstore.)
Podcast: Play in new window | Download
Subscribe: RSS