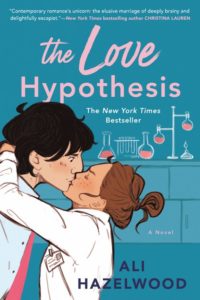 Our sweet Flashback Summer is finally over and we've reluctantly returned to the world of modern publishing. Dee Ernst, author of Lucy Checks In, joined us to discuss the certified #BookTok sensation, The Love Hypothesis by Ali Hazelwood. We'll unpack this Star Wars fanfiction turned fake dating romance novel, google Adam Driver's height, and lament the lack of porgs. Listen to this episode while curing cancer!
Readers advisory: Here.
Footnotes: Reddit Thread: The Love Hypothesis, Who is Who?
Reddit Thread: Looking for a Copy of Head over Feet
Meet the Porgs: The Cutest Stars in the Galaxy by Jodi Guglielmi
6 Things You Didn't Know About Adam Driver by Temi Adebowale
Coming up next: Miss Me With That by Rachel Lindsay.
Podcast: Play in new window | Download
Subscribe: RSS