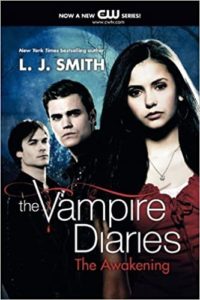 Like a newborn vampire, we're always thirsty for more supernatural teen drama around here. We turned to a finely-aged vintage, The Awakening (Vampire Diaries #1) by L. J. Smith, and we were thrilled to be joined by Lily Sparks (@lilyroro), author of non-vampire, but still high stakes, YA novel Teen Killers Club. Join us as we extoll all the ways L. J. Smith's teen vampires are cooler than Stephenie Meyer's teen vampires, including the best take on a love triangle we've ever seen in our storied history.
Readers advisory: Here.
Footnotes: Carmilla (YouTube series)
"Italy's annual calcio storico tournament — part football, part MMA — is a brutal sight to behold" by Paolo Bandini
Candy pairing: Kait says Hershey's Special Dark Kisses, Lily says a vanished spicy-sour candy of her youth, Renata says mini Milky Way Midnights.
Coming up next: Go Ask Alice by Anonymous.
* Worst Bestsellers is a participant in the Amazon Services LLC Associates Program, an affiliate advertising program designed to provide a means for sites to earn advertising fees by advertising and linking to Amazon.com.
(But no pressure, we're also happy if you get these items from your local library or independent bookstore.)
Podcast: Play in new window | Download
Subscribe: RSS