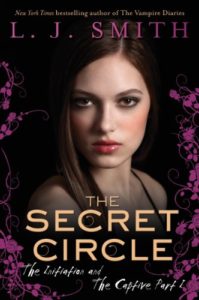 It must be the season of the witch, since we read The Initiation, the first book in L. J. Smith's Secret Circle series. The new school year in New Salem marks the start of some beautiful friendships whose homoerotic subtext is only barely concealed beneath a thin layer of herbs. Plus also, some valuable lessons about urban planning!
Readers advisory: Here.
Footnotes: Forever Young Adult: Recap of The Secret Circle Pilot
Candy Pairing:  Kait says a caramel apple, Katie says saltwater taffy, Renata says feverfew.
Coming up next: The Mister by E. L. James.
* Worst Bestsellers is a participant in the Amazon Services LLC Associates Program, an affiliate advertising program designed to provide a means for sites to earn advertising fees by advertising and linking to Amazon.com.
(But no pressure, we're also happy if you get these items from your local library or independent bookstore.)
Podcast: Play in new window | Download
Subscribe: RSS