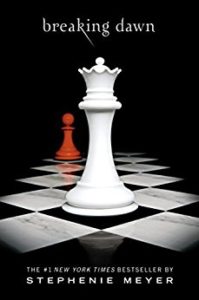 It's been three years since our very first episode, when Carrie read Twilight by Stephenie Meyer with us! (And two years since we read New Moon and one year since we read Eclipse!) We're back to play the Worst Bestsellers drinking game and drunkenly discuss the final book in the saga, Breaking Dawn. It's a book with something for everyone–a wedding, a horrifyingly graphic birth scene, a baby, a werewolf pack schism, and a vampire named Renata. Thanks to all our Best Listeners for three great years of terrible books!
How the #podcat gets made 😻 pic.twitter.com/phEOZaVls7

— Renata Sancken (@renatasnacks) September 8, 2017
It's that time, once again. #wbsdrinkinggame pic.twitter.com/iAJ9COjqMo

— kait 👻🏳️‍🌈🎃 (@fourteenacross) September 8, 2017
Readers advisory: Twilight
Footnotes:  Bonus Episode – Twilight Movies (Patreon patrons only)

Iron Wine – "Flightless Bird, American Mouth" (Breaking Dawn wedding song)
We Might Be Getting More 'Hunger Games' and 'Twilight' Movies
Great Comet's Creator Still Can't Believe How His Show Ended
How Did This Get Made? #27 – Breaking Dawn Part 1
How Did This Get Made? #50 – Breaking Dawn Part 2
Worst Bestsellers Drinking Game
Candy pairing:  Carrie says Lik-M-Aid, Kait says Jordan almonds, Renata says Doritos.
Coming up next: Handbook for Mortals by Lani Sarem.
* Worst Bestsellers is a participant in the Amazon Services LLC Associates Program, an affiliate advertising program designed to provide a means for sites to earn advertising fees by advertising and linking to Amazon.com.
(But no pressure, we're also happy if you get these items from your local library or independent bookstore.)
Podcast: Play in new window | Download
Subscribe: RSS