As you're no doubt aware, Hurricane Maria devastated Puerto Rico and the need for aid is dire. Every little bit we can give helps. Team Worst Bestsellers (Renata, Kait, and Becca) gave all of October's Patreon earnings ($266.22) to the Hispanic Foundation's Unidos Hurricane Relief Fund. Thanks to our Patreon patrons for making this possible!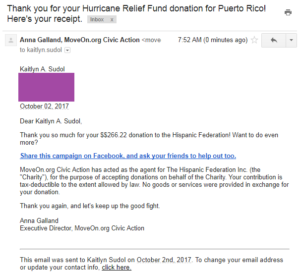 We know many of our listeners have already donated too, or are planning to when they can. So, inspired by works like the Pub for PR auction, we'd like to give back to you all as well.
If you've donated any amount to any kind of hurricane relief effort (if you're not sure where to donate, we recommend Celeste Pewter's list of organizations), email proof (screencap, forwarded receipt, or whatever) to worstbestsellers at gmail dot com with the subject line "Hurricane Relief", and we'll enter you in a raffle (powered by Random Picker) to win a Worst Bestsellers prize package inspired by our upcoming episode about Lizzie Borden by Elizabeth Engstrom including:
an "I Slept at the Lizzie Borden Bed & Breakfast" magnet
a Lizzie Borden postcard of your choice from Kait & Renata
a candy pairing of your choice
a $20 Amazon gift certificate (so you can buy yourself a copy of Lizzie Borden…or any other book of your choice)
We'll also send Lizzie Borden postcards to 5 runners up. This offer is open to international listeners. American listeners can get 2 entries if they also call an elected official to request federal aid for Puerto Rico (we recommend Celeste Pewter's scripts) and mention that in their email to us.
We'll accept entries from Monday October 2nd-Monday October 9th, 2017, and will announce our winners on Tuesday, October 10th. (Donations may have been made prior to October 2nd to be eligible for our raffle, but should be after September 20th.)
Our thoughts are with Puerto Rico, as well as everyone else affected by the recent natural disasters. We're proud to be part of a community that gives back.
Update 10/10/17: We've drawn our winners! Thanks so much to everyone who contributed, and congratulations to:
| Prize | Winner |
| --- | --- |
| 1: Lizzie Borden prize pack | Alan Y. |
| 2: Lizzie Borden postcard | Ben S. |
| 2: Lizzie Borden postcard | Devin M. |
| 2: Lizzie Borden postcard | Melinda B. |
| 2: Lizzie Borden postcard | Trina M. |
| 2: Lizzie Borden postcard | Danielle W. |