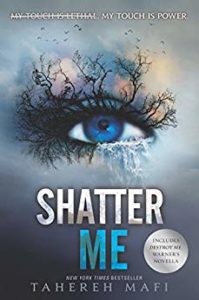 In a world…where a teen girl's touch is deadly…to everyone except one hot guy…who she's locked in a jail cell with…what will happen next? According to Shatter Me by Tahereh Mafi, maybe she'll overthrow the government? Bookseller Maggie joined us to discuss this chaste, yet horny YA dystopian novel.
Readers advisory: Here.
Footnotes: "A Very Large Expanse Of Sea" Author Tahereh Mafi on Representation for Muslim-American Teens and the Need for More Diverse Love Stories
Rogue & Gambit #5 Review (Featuring a Kate Beaton tribute)
Candy Pairing: Kait says Thin Mints, Maggie says cinnamon rock candy, Renata says Twinkies.
Coming up next: A Discovery of Witches by Deborah Harkness.
* Worst Bestsellers is a participant in the Amazon Services LLC Associates Program, an affiliate advertising program designed to provide a means for sites to earn advertising fees by advertising and linking to Amazon.com.
(But no pressure, we're also happy if you get these items from your local library or independent bookstore.)
Podcast: Play in new window | Download
Subscribe: RSS