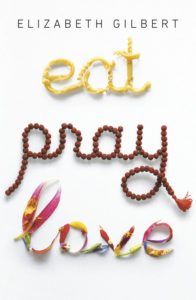 Democracy works: our Patreon patrons voted for us to read Eat Pray Love by Elizabeth Gilbert, so we did. And we, along with our returning guest Meredith Goldstein, of the Boston Globe's Love Letters, actually kinda…loved it? Sorry haters, we've been Gilbertpilled. Listen to this episode while eating incredible homemade pasta, or just some frozen pizza if you're currently in the USA.
Readers advisory: Here.
Footnotes: "The 'Eat Pray Love' Problem: How Movie Liz Ruined The Story Of Book Liz" by Linda Holmes
"In which I don't review 'Eat Pray Love'" by Crunk Feminist Collective
The new colonialism of 'Eat, Pray, Love' by Sandip Roy
"Elizabeth Gilbert Is Owning Her Past Mistakes" by Lizzy O'Leary
"'Eat, Pray, Love' Author Elizabeth Gilbert Announces She's Dating Another Woman" by Claire Landsbaum
Coming up next: Bests & Worsts of 2022.
Podcast: Play in new window | Download
Subscribe: RSS