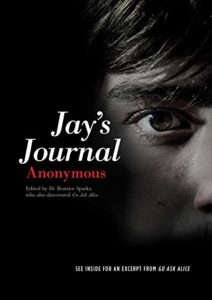 After reading Go Ask Alice last year, we were still left with some lingering questions about issues facing teens. Like, drugs are bad, but what about doing occult rituals? Are they okay if you're only using them to win high school debate tournaments? To find out, we read another book from Beatrice Sparks' Anonymous Diaries series, Jay's Journal. Join us for another spine-tingling episode with our beloved former editor Becca!
Content warning: This book and our discussion of it contains non-graphic discussions of death by suicide, animal abuse, drug use, sexual assault, and a lot of confusing cultural appropriation.
Readers advisory: Here.
Footnotes: Episode 163 – Go Ask Alice
"Teen Death Diary" by Ben Dieterle
Alden's Brother's Amazon Review of Jay's Journal
Grady Hendrix on Jay's Journal
Coming up next: Yours Cruelly, Elvira by Cassandra Peterson.
* Worst Bestsellers is a participant in the Amazon Services LLC Associates Program, an affiliate advertising program designed to provide a means for sites to earn advertising fees by advertising and linking to Amazon.com.
(But no pressure, we're also happy if you get these items from your local library or independent bookstore.)
Podcast: Play in new window | Download
Subscribe: RSS