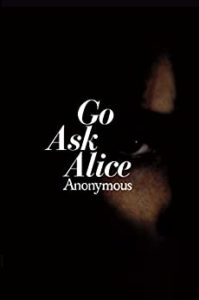 Per the request of our wonderful Patreon patrons, our editor Becca joined us to discuss the anti-drug cautionary tale Go Ask Alice by Anonymous (aka Beatrice Sparks). Reading it in 2020, we're not sure what's harder to believe: that this ever deterred anyone from using drugs, or that anyone ever believed it was actually the diary of a human teenager. We're grateful to our patrons for supporting us, and just as grateful that we've never been invited to any parties where someone slipped LSD into our soda.
Readers advisory: Here.
Footnotes: Paul F. Tompkins – "Go Ask Alice"
"Lines From Go Ask Alice That, In Hindsight, Should Have Tipped Me Off That This Was Not A True Story" by Daniel Lavery
"The Book That Defined My Teen Anxiety Turned Out to Be a Lie" by Sloane Tanen
"A Queer Reading of Go Ask Alice" by Frankie Thomas
Amazon review of Go Ask Alice by the author of Drugs Make You Un-Smarter
Candy pairing: Becca says any candy that isn't secretly acid, Kait says pot gummies, Renata says orange yeast rolls.
Coming up next: Bests of 2020.
* Worst Bestsellers is a participant in the Amazon Services LLC Associates Program, an affiliate advertising program designed to provide a means for sites to earn advertising fees by advertising and linking to Amazon.com.
(But no pressure, we're also happy if you get these items from your local library or independent bookstore.)
Podcast: Play in new window | Download
Subscribe: RSS