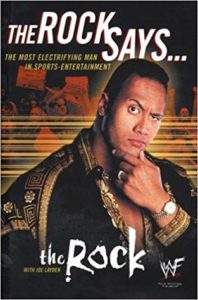 As listeners to the podcast may know, we're big fans of Dwayne Johnson, but slightly less knowledgable about his pro wrestling alter ego, The Rock. So we invited Tres Dean, author of For Your Consideration: Dwayne "The Rock" Johnson, to read the 2000 memoir The Rock Says… by The Rock and Joe Leyden. We learned a lot about both Dwayne Johnson and The Rock. Arguably, more than we wanted to know? Put your MP3 player in your fanny pack to listen to this episode on the go!
Readers advisory: Here.
Footnotes: Gennifer Flowers Interviews The Rock
"Meet the Woman Who Built Dwayne 'The Rock' Johnson's Media Empire" by Colleen Leahey McKeegan
"The Wrestler and the Cornflake Girl: Ring legend Mick Foley explains how Tori Amos changed his life" by Mick Foley
I Don't Even Own A Television #140 –  No Regrets by Ace Frehley and Joe Leyden
Candy Pairing:  Kait says WWE Superstars Ice Cream bars, Renata says margarita Jelly Bellies.
Coming up next: Dark Angel by V. C. Andrews.
* Worst Bestsellers is a participant in the Amazon Services LLC Associates Program, an affiliate advertising program designed to provide a means for sites to earn advertising fees by advertising and linking to Amazon.com.
(But no pressure, we're also happy if you get these items from your local library or independent bookstore.)
Podcast: Play in new window | Download
Subscribe: RSS