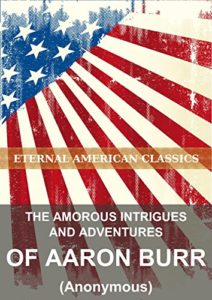 Since Alex & Eliza left us unsatisfied, we decided to read some anonymously-written 19th century erotica. And who better to accompany us for The Amorous Intrigues and Adventures of Aaron Burr than Mackenzi Lee, author of The Gentleman's Guide to Vice and Virtue and Bygone Badass Broads? This is not the most erotic book we've ever read for the podcast, but it is definitely the oldest and possibly the most fat-positive. Join us as we learn about exactly how reliable with the ladies Aaron Burr was.
Readers advisory: Here.
Footnotes: Barnes & Noble edition (NSFW cover art)
 Smart Bitches Trashy Books – Amorous Intrigues and Adventures of Aaron Burr
Key & Peele – Substitute Teacher
Episode 33 – The President Did Me From Behind And I Liked It
Candy pairing: Kait says Smarties, Mackenzi says Sour Patch Kids, Renata says poison licorice.
Coming up next: The Christmas Caramel Murder by Joanne Fluke.
* Worst Bestsellers is a participant in the Amazon Services LLC Associates Program, an affiliate advertising program designed to provide a means for sites to earn advertising fees by advertising and linking to Amazon.com.
(But no pressure, we're also happy if you get these items from your local library or independent bookstore.)
Podcast: Play in new window | Download
Subscribe: RSS