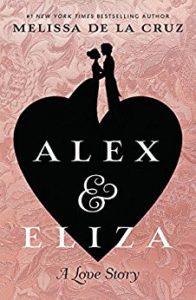 We're helpless for the Schuyler Sisters (you know, Angelica, Eliza…and Peggy), so we read Alex & Eliza by Melissa de la Cruz with Andrea. Unfortunately, the author threw away her shot at writing something we didn't want to burn. Make sure your vaccines are up-to-date before you listen to us discuss some Hamilton fanfiction that has a lot more smallpox and a lot less love than we were hoping for.
Readers advisory: Here.
Footnotes: Episode 38 – Hamilton
Melissa de la Cruz's Alex & Eliza: Hamilton-inspired YA novel retells a love story
Queer as a Five Dollar Bill by Lee Wind
U.S. Army Medical Department: John Cochran
George Washington and the First Mass Military Inoculation
Candy pairing: Andrea says peppermint coconut, Kait says a picked-over Russell Stover sampler, Renata says a chocolate orange.
Coming up next: The Amorous Adventures and Intrigues of Aaron Burr by Anonymous.
* Worst Bestsellers is a participant in the Amazon Services LLC Associates Program, an affiliate advertising program designed to provide a means for sites to earn advertising fees by advertising and linking to Amazon.com.
(But no pressure, we're also happy if you get these items from your local library or independent bookstore.)
Podcast: Play in new window | Download
Subscribe: RSS