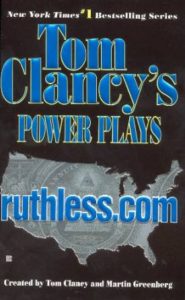 Kait, Renata, and their guest Patrick read a book a ghostwriter wrote based on a computer game created by Tom Clancy based on a nonexistent website. If that sounds confusing, it's still not as confusing as this corporate espionage-y Orientalist mess of a novel. Please don't hack our website and/or submarine! Dot Com!
Readers advisory: Here.
Footnotes: Tom Clancy's Ruthless.com on Moby Games
Tom Clancy's Politika on Board Game Geek
The Cold War of Clancy vs Clancy
Candy pairing:  Kait says an actual microchip, Patrick says a durian cream puff, Renata says Candy Crush.
Coming up next: X-Men: X-Cutioner's Song by Scott Lobdell, Peter David, et al.
* Worst Bestsellers is a participant in the Amazon Services LLC Associates Program, an affiliate advertising program designed to provide a means for sites to earn advertising fees by advertising and linking to Amazon.com.
(But no pressure, we're also happy if you get these items from your local library or independent bookstore.)
Podcast: Play in new window | Download
Subscribe: RSS