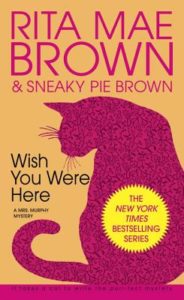 Duarte's been asking us for more feline representation, so we were joined by Phillip Mottaz, author of the Psychic Barber Mystery series, to read the first Mrs. Murphy mystery, Wish You Were Here by Rita Mae Brown and Sneaky Pie Brown. It's a small town cozy mystery solved by a postmistress and her pets. Unfortunately, the pets have weirdly regressive attitudes. Turn the volume up on this episode to make sure you can hear it over all the almonds being blended!
Readers advisory: Here.
Footnotes: Rita Mae Brown's Wikipedia page
Coming up next: Eat, Pray, Love by Elizabeth Gilbert.
Podcast: Play in new window | Download
Subscribe: RSS