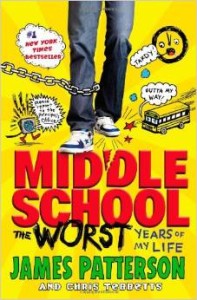 Kait, Renata, and their guest Abby (The Librarian) read Middle School, The Worst Years of My Life by James Patterson and Chris Tebbetts. It's an unexpectedly dark psychological thriller (of sorts) that made us reflect on our own middle school years and also wonder if James Patterson has ever actually set foot inside a school. Listen now to hear why James Patterson once again failed to win the Newbery Medal!
Readers advisory: Here.
Footnotes: The Henry Ford of Books
Candy pairing: Abby says Almond Joys, Kait says Airheads X-Treme, Renata says Starburst jellybeans.
Coming up next: Flowers in the Attic by V. C. Andrews.
* Worst Bestsellers is a participant in the Amazon Services LLC Associates Program, an affiliate advertising program designed to provide a means for sites to earn advertising fees by advertising and linking to Amazon.com.
(But no pressure, we're also happy if you get these items from your local library or independent bookstore.)
Podcast: Play in new window | Download
Subscribe: RSS