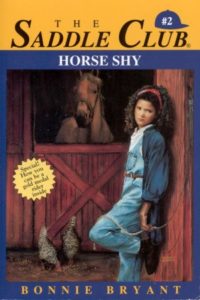 Hey, do you like horses? If so, great news: Flashback Summer continues as Jess (from Book Riot Comics) joined Renata and Becca to discuss Horse Shy from the Saddle Club series by Bonnie Bryant! If you don't like horses: too bad, because that's literally the only thing these Saddle Club girls talk about. Saddle up and hear us unpack a book that traumatized many young horse enthusiasts!
TYPICAL ADAM LEVINE pic.twitter.com/dvGAufciuh

— Renata Sancken (@renatasnacks) June 5, 2017
Promotional note: Come see us live at the Freepoint Hotel in Cambridge, MA on June 20th at 7pm!
Readers advisory: Here.
Footnotes: #WeNeedDiverse Saddle Club Book Covers
9 Saddle Club Books That Totally Ruled Your World As A Kid
Candy pairing:  Becca says Neigh-cco wafers, Jess says a disgusting Tastee Delight sundae,  Renata says a stale granola bar.
Coming up next: Meet Addy by Connie Porter and Molly Saves the Day by Valerie Tripp (American Girls series).
* Worst Bestsellers is a participant in the Amazon Services LLC Associates Program, an affiliate advertising program designed to provide a means for sites to earn advertising fees by advertising and linking to Amazon.com.
(But no pressure, we're also happy if you get these items from your local library or independent bookstore.)
Podcast: Play in new window | Download
Subscribe: RSS