Tune in to our Bests & Worsts of 2015 episodes to hear us discuss these titles and read excerpts from our favorites and least favorites! Please note:
We counted things that we read in 2015, regardless of publication year.
We didn't count anything that we read specifically for this podcast, so our worst books are aside from those.
For that reason, we picked top 5 favorites and only 1 least favorite–we have this whole podcast to talk about bad books, so for these episodes we're choosing to focus on the positive!
Some of our "worsts" are really just "least best." Listen to the podcast to hear more detail!
Adult
Kait's Top 5 Best
5.) Going Clear: Scientology, Hollywood, & The Prison of Belief by Lawrence Wright
3.) We Have Always Lived in the Castle by Shirley Jackson
2.) Collected Ghost Stories by M. R. James
1.) Annihilation (Southern Reach Trilogy) by Jeff VanderMeer
Kait's Worst
The Girl on the Train by Paula Hawkins
Renata's Top 5 Best
5.) The Life-Changing Magic of Tidying Up by Marie Kondo
4.) Pioneer Girl: The Annotated Autobiography by Laura Ingalls Wilder & Pamela Smith Hill
3.) Between The World and Me by Ta-Nehisi Coates
2.) The Unspeakable: And Other Topics of Conversation by Meghan Daum
1.) Lafayette in the Somewhat United States by Sarah Vowell
Renata's Worst
I'm Not a Terrorist But I've Played One on TV by Maz Jobrani
Graphic Novels
Kait's Top 5 Best
5.) Kaptara by Chip Zdarsky & Kagan McLeod
4.) The Wicked + The Divine by Kieron Gillen & Jamie McKelvie
3.) Wytches by Scott Snyder & Jock
2.) The Unbeatable Squirrel Girl by Ryan North & Erica Henderson
1.) Bitch Planet by Kelly Sue DeConnick & Valentine DeLandro
An excerpt from Bitch Planet (click to embiggen):
Kait's Worst
Locke & Key by Joe Hill & Gabriel Rodriguez
An excerpt from Locke & Key (click to embiggen):
Renata's Top 5 Best
5.) All-New X-Factor by Peter David & Giuseppe Camuncoli 
4.) Roller Girl by Victoria Jamieson
3.) The Sandman: Overture by Neil Gaiman & J. H. Williams III
2.) Ms. Marvel by G. Willow Wilson & Adrian Alphona
1.) The Unbeatable Squirrel Girl by Ryan North & Erica Henderson
An excerpt from The Unbeatable Squirrel Girl (click to embiggen):
Renata's Worst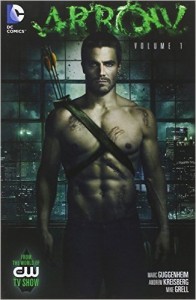 Arrow by Marc Guggenheim, Andrew Kreisberg, & Mike Grell
An excerpt from Arrow (click to embiggen):
* Worst Bestsellers is a participant in the Amazon Services LLC Associates Program, an affiliate advertising program designed to provide a means for sites to earn advertising fees by advertising and linking to Amazon.com.
(But no pressure, we're also happy if you get these items from your local library or independent bookstore.)
Podcast: Play in new window | Download
Subscribe: RSS