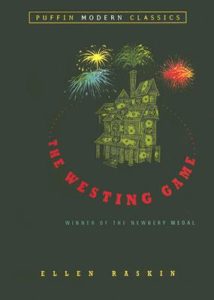 Happy Fourth of July! Buy Westing Paper Products! Flashback Summer continues with a book that's such a stone-cold classic, we strongly advise that you not listen to this episode if you haven't read The Westing Game by Ellen Raskin. Our guest, J.W. Friedman from the I Don't Even Own a Television podcast, joined us to discuss this iconic mystery that won the 1979 Newbery Medal. Listen to this episode in between checking stock prices on your transistor radio. (But, again, only after you've read the book! Please!)
Readers advisory: Here.
Footnotes: "8 Uses for an Asparagus Steamer" by Lindsay-Jean Hard.
Coming up next: The Door Into Fire by Diane Duane.
Podcast: Play in new window | Download
Subscribe: RSS