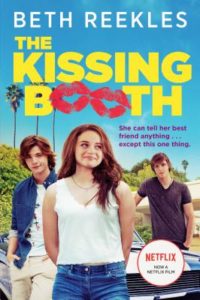 The Worst Best Friends have reconvened at the high school carnival! Unfortunately, due to the pandemic, the kissing booth is closed, but returning guests Anna and Alene (aka the Bellwether Friends) still joined us to discuss The Kissing Booth by Beth Reekles. We discussed Wattpad, why the movie is better than the book, and what our own summer dance prom masquerades were like. If you ask nicely, maybe the barista will play this episode over the sound system at the sit-down Starbucks.
Readers advisory: Here.
Footnotes: Episode #79 – Dark Archer
"The Kissing Booth: How a Newport teen author inspired Netflix"
"'Kissing Booth 2': Meet Beth Reekles, the young author behind the popular Netflix rom-coms" by Carly Mallenbaum
"Netflix Releases Some More Fuzzy Viewing Data: Congrats, 'The Kissing Booth'!" by Rick Porter
One Direction – What Makes You Beautiful
Plain White Ts – I Really Want You
Coming up next: Catwoman: Soulstealer by Sarah J. Maas.
Podcast: Play in new window | Download
Subscribe: RSS