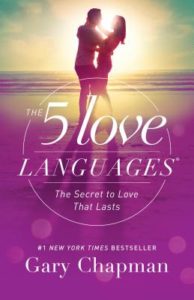 Kait and Renata were left unattended and their love tanks were running pretty low, so they turned to The Five Love Languages: The Secret to Love That Lasts by Gary Chapman. This one has been kicking around since 1992, and you know what? Some parts of it were not that bad. Unfortunately, there are also…other parts of it. Listen to this one on your way to your next softball game or funeral!
Readers advisory: Here.
Candy pairing: Kait says M&Ms, Renata says Skittles (with green apple flavor).
Footnotes: What's Your Love Language Quiz?
"The Creator Of The 5 Love Languages Is A Homophobe And This Is Why We Can't Have Nice Things" by Kristen Mae
"There's No Escaping the Five Love Languages" by Katie Heaney
The Gottman Institute on Same-Sex Couples
"Tucker Carlson complains new M&M's mascots are 'less sexy'" by Grayson Quay
This American Life Episode #291 – Reunited (And It Feels So Good)
Coming up next: The Kissing Booth by Beth Reekles.
Podcast: Play in new window | Download
Subscribe: RSS