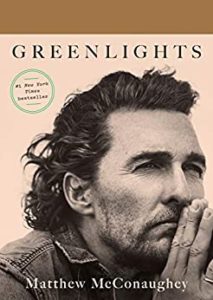 Alright, alright, alright! Even though time is a flat circle, we're celebrating Celebrity Memoir May and we're starting the party with Matthew McConaughey's book Greenlights. The most surprising part about this book was how much we sincerely enjoyed it. The second most surprising part about this book was all the wet dreams. Seriously, this book was wild and we hope that you will listen to it!
Content warning: This book contains descriptions of child abuse.
Readers advisory: Here.
Footnotes: "Matthew McConaughey Made His Debut on an Old Unsolved Mysteries Episode" by Adrianna Freedman
"Matthew McConaughey may be a viable candidate for Texas governor" by  Robert T. Garrett and Gromer Jeffers Jr.
The just keep livin foundation
Matthew McConaughey Peace Corps PSA
Matthew McConaughey & Camila Alves at Carnaval (this is NOT the photo Renata describes in the podcast but I cannot find it online!!! use your imagination to get the rest)
Coming up next: No Walls and the Recurring Dream by Ani DiFranco.
* Worst Bestsellers is a participant in the Amazon Services LLC Associates Program, an affiliate advertising program designed to provide a means for sites to earn advertising fees by advertising and linking to Amazon.com.
(But no pressure, we're also happy if you get these items from your local library or independent bookstore.)
Podcast: Play in new window | Download
Subscribe: RSS