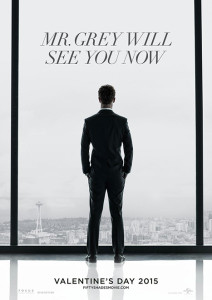 Renata was snowed in, so she had three lesbians–Kait, returning guest Anna of Bellwether Friends, and internet personality Laura–tell her all about the Fifty Shades of Grey movie. They all agreed: it needed more dick. We also addressed various weird plot points of the book that we ran out of time to discuss in the last episode, encouraged people to donate money to whatever charity they want whenever they want, and made controversial comparisons to Love Actually. There's no way you can be as sick of hearing about Fifty Shades of Grey as we are of talking about it, so put on your sex jeans and tune in to this bonus episode!
Footnotes: American Sniper film 'behind rise in anti-Muslim threats'
Anti-Sex Worker Activists Are Behind #50DollarsNot50Shades
"A Few Thoughts on Fifty Shades of Grey" by Roxane Gay
The Rocky Road to the Making of the Fifty Shades of Grey Movie
Intro to BDSM Safety by Abby Howard (NSFW)
Coming up next: Middle School, The Worst Years of my Life by James Patterson.
Podcast: Play in new window | Download
Subscribe: RSS