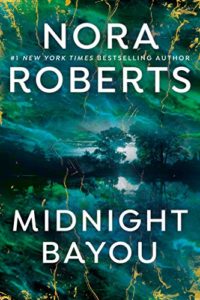 To ease ourselves back into reading garbage after our winter break, we had returning guest Christine join us for another book by Our Lady Nora Roberts. This time around, we read Midnight Bayou, a Louisiana love story for the ages between a man and home renovations. You're going to have to turn your volume way up if you want to listen to this episode over all that Mardi Gras ruckus!
Readers advisory: Here.
Footnotes: "Welcome to Noraville, the Small Maryland Town Rebuilt by Nora Roberts" by Esther Wang
Smart Bitches, Trashy Books – Renovation Romances
Candy Pairing:  Christine says rum candy, Kait says a French 75, Renata says beignets.
Coming up next: Scythe by Neal Shusterman.
* Worst Bestsellers is a participant in the Amazon Services LLC Associates Program, an affiliate advertising program designed to provide a means for sites to earn advertising fees by advertising and linking to Amazon.com.
(But no pressure, we're also happy if you get these items from your local library or independent bookstore.)
Podcast: Play in new window | Download
Subscribe: RSS