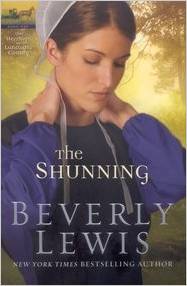 Kait, Renata, and their guest Becca put on their forbidden satin gowns and read The Shunning by Beverly Lewis. It's the ferhoodling story of a mildly rebellious Amish girl whose worldly desires eventually lead to her getting shunned by the community. Before they get around to all that, though, they have a lot of quilts to make and desserts to describe. If your religious traditions permit you to listen to podcasts, join us today!
Readers advisory: Here.
Footnotes: Bonnet Rippers: The Rise of the Amish Romance Novel
Candy pairing: Becca says Ativan, Kait says buttermints, Renata says disappointing apple pie.
Coming up next: Fifty Shades of Grey by E. L. James.
* Worst Bestsellers is a participant in the Amazon Services LLC Associates Program, an affiliate advertising program designed to provide a means for sites to earn advertising fees by advertising and linking to Amazon.com.
(But no pressure, we're also happy if you get these items from your local library or independent bookstore.)
Podcast: Play in new window | Download
Subscribe: RSS