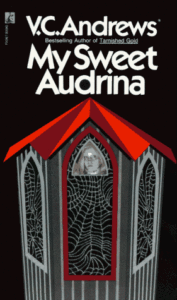 Out of the attic and into the rocking chair, we were joined by Sophie of Two Bossy Dames to read My Sweet Audrina by V. C. Andrews. We were grudgingly impressed by how effectively Andrews gaslit us, the readers, because by the end of this book we had no idea which end was up anymore. Play this episode at your next tea party/seance!
Content warning: This book and our discussion of it contains sexual assault, physical & emotional abuse of a child, ableism, gaslighting, miscarriage, and pretty much any other upsetting topic you could imagine.
Readers advisory: Here.
Footnotes: Episode #17 – Flowers in the Attic
Prisms and Bon-Bons: (Re)Reading V.C. Andrews' My Sweet Audrina by Leila Roy
A Review of the Worst Book in History by Erin Callahan
Flowers in the Attic (The Appeal Thereof) by Sigrid Ellis
Girl Catches Boyfriend Gaslighting Her Then Tricks Him Into Watching The Movie "Gaslight"
Candy Pairing: Kait says a bowl full of marbles mistaken for jelly beans, Renata says two-year-old birthday cake, Sophie says prismatic rock candy.
Coming up next: Five Nights at Freddy's: The Silver Eyes by Kira Breed-Wrisley and Scott Cawthon.
* Worst Bestsellers is a participant in the Amazon Services LLC Associates Program, an affiliate advertising program designed to provide a means for sites to earn advertising fees by advertising and linking to Amazon.com.
(But no pressure, we're also happy if you get these items from your local library or independent bookstore.)
Podcast: Play in new window | Download
Subscribe: RSS