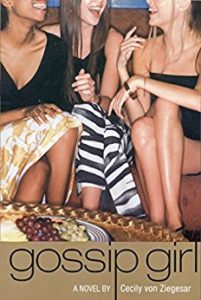 Thanks to our Patreon sponsors, we recorded a bonus episode about Gossip Girl (the novel by Cecily von Ziegesar as well as the TV show) with special guest Renata's mom, Susan. We have to say: we enjoyed this dive into the lives of hyper-privileged Manhattan youths more than we thought we would, despite the fact that almost nothing actually happens in this book. Download this episode to your Swarovski crystal-encrusted Motorola Razr to hear us learn how the other half lives!
Apologies: Whoops, the clanking sound in the background is all of the jewelry Renata's mom wears, please excuse her beauty. Also, Renata mistakenly said Serena has a cat named Kitty Minky. In fact, Kitty Minky is Blair's cat. We regret the error and apologize to the fictional cat in question.
Readers advisory: Here.
Footnotes: 'Gossip Girl' Creator Spills a Major Secret About Chuck and Blair's Iconic Relationship
Serena/Blair Works on Archive Of Our Own
 Candy pairing: Kait says a half grapefruit & Pop Tarts, Renata says boozy chocolates, Renata's mom says a single Tic-Tac.
Coming up next: Cookie Meets Peanut by Bethenny Frankel.

* Worst Bestsellers is a participant in the Amazon Services LLC Associates Program, an affiliate advertising program designed to provide a means for sites to earn advertising fees by advertising and linking to Amazon.com.
(But no pressure, we're also happy if you get these items from your local library or independent bookstore.)
Podcast: Play in new window | Download
Subscribe: RSS