Hey, we'll be honest: we kind of phoned this one in. On a landline. You screened it? On your answering machine? Haha, a topical reference. See, we read Without You: A Memoir of Love, Loss, and The Musical Rent by Anthony Rapp. He was in Rent! Listen to this episode while waiting in line for rush tickets for Rent. Or, honestly, don't listen to this episode if you don't care about Rent the musical. You've been warned!
Content warning: Sexual assault, death of a parent.
Readers advisory: Here.
Footnotes: This American Life: Hoaxing Yourself
'Without You' Review: Anthony Rapp's Seasons of Love, and Loss by Elisabeth Vincentelli
"Actor Anthony Rapp: Kevin Spacey Made A Sexual Advance Toward Me When I Was 14" by Adam Vary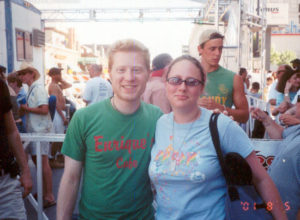 Coming up next: Are You There God? It's Me, Margaret by Judy Blume.
Podcast: Play in new window | Download
Subscribe: RSS