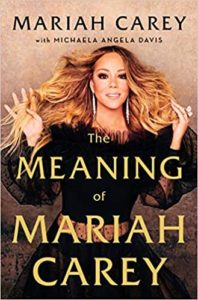 All we want for Christmas is…another celebrity memoir, and Mariah Claus delivered. We read The Meaning of Mariah Carey by Mariah Carey with Michaela Angela Davis and enjoyed our visit to Mariah's realm. Listen to this episode on your way to visit your lambily!
Content warning: This book and our discussion of it contains non-graphic discussions of child neglect, domestic abuse, and racism.
Readers advisory: Here.
Footnotes: "Mariah Carey Explains Why She Tweeted That "Thanksgiving Is Cancelled" by Bianca Betancourt
"This Throwback Photo Of Mariah Carey & Will Smith Will Give You All The '90s Feels" by Brad Witter
"This Video Of Mariah Carey Communicating With A Dolphin Has Over 30,000 Retweets, Like She Is Actually Speaking Dolphin" by Matt Stopera
"The Summer That 'I Don't Know Her' Became the Most Crushing Celebrity Shade" by Kenzie Bryant
Mariah Carey's Ice Cream Meltdown on TRL
Mariah Carey's Weddings in Photos
"Mariah Carey smashes pumpkins to kick off Christmas season: 'It's time'" by Nick Romano
"27 Burning Questions About Mariah Carey's New McDonald's Ad" by Dave Holmes
How Did This Get Made #94 – Glitter
Coming up next: The President Is Missing by James Patterson and Bill Clinton.
* Worst Bestsellers is a participant in the Amazon Services LLC Associates Program, an affiliate advertising program designed to provide a means for sites to earn advertising fees by advertising and linking to Amazon.com.
(But no pressure, we're also happy if you get these items from your local library or independent bookstore.)
Podcast: Play in new window | Download
Subscribe: RSS