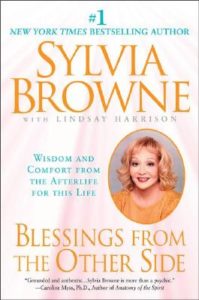 We reunited with Sydney and Delaney from Book Cult to discuss the cult-adjacent teachings of Sylvia Browne, as presented in her book Blessings From The Other Side: Wisdom and Comfort From the Afterlife For This Life. Play this one extra loud to make sure that it's audible to the spirits hovering three feet above you!
Readers advisory: Here.
Footnotes: Book Cult Episode 43: Blessings From The Other Side
Book Cult Episode 75: Worst Bestsellers (that's us!) 
John Oliver is sensing a 'p' for 'predatory bullshit' as Last Week Tonight debunks TV psychic by Dennis Perkins
44 Life Themes Everyone Chooses Before Incarnation: Which One Did You Choose?
Coming up next: Wish You Were Here by Rita Mae Brown and Sneaky Pie Brown.
Podcast: Play in new window | Download
Subscribe: RSS