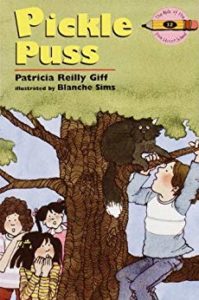 Flashback Summer continues with a trip to the Polk Street School, where the kids aren't alright. Becca joined us to read Pickle Puss by Patricia Reilly Giff, an early chapter book about how not to run a summer reading program or care for a pet. Listen to this episode on your way to deceive your local librarian!
Readers advisory: Here.
Footnotes: Endangered Series: The Kids of Polk Street School.
Candy Pairing:  Becca says melted Hershey's kisses, Kait says sugar free hard candy, Renata says Scandinavian Swimmers.
Coming up next: Rotten Romans (Horrible Histories series) by Terry Deary & Martin Brown.
* Worst Bestsellers is a participant in the Amazon Services LLC Associates Program, an affiliate advertising program designed to provide a means for sites to earn advertising fees by advertising and linking to Amazon.com.
(But no pressure, we're also happy if you get these items from your local library or independent bookstore.)
Podcast: Play in new window | Download
Subscribe: RSS