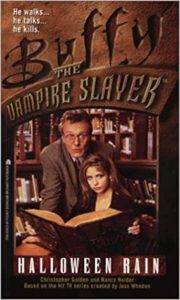 Flashback Summer has moved past our time with the Baby-Sitters Club to revisit another enterprising teen girl, Buffy the Vampire Slayer. We read a vintage Buffy tie-in novel, Halloween Rain by Christopher Golden and Nancy Holder, with our guest THE Meredith Goldstein, the Boston Globe's Love Letters columnist and author of books like Things That Grow and Can't Help Myself. This book may contradict established Buffy canon, but at least it also has some very dated pop culture references in it! Play this episode over the sound system at the Bronze.
Readers advisory: Here.
Footnotes: Sunnydale Mall on the Buffyverse wiki
"Mandolin Rain" by Bruce Hornsby
"Nightmare Before Christmas' Sally Gets to Shine in a New YA Novel From Shea Ernshaw" by James Whitbrook
Coming up next: Slayer by Kiersten White.
* Worst Bestsellers is a participant in the Amazon Services LLC Associates Program, an affiliate advertising program designed to provide a means for sites to earn advertising fees by advertising and linking to Amazon.com.
(But no pressure, we're also happy if you get these items from your local library or independent bookstore.)
Podcast: Play in new window | Download
Subscribe: RSS