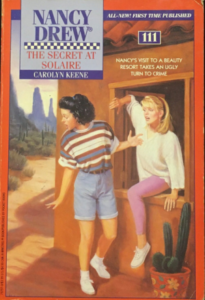 For Flashback Summer we decided to get away from it all with a visit to an exclusive desert spa. Unfortunately, the spa was plagued with black widow spiders, blackmailers, and other concerns. Fortunately, Kristin, the host of the Kristin Sleuth YouTube channel, was able to talk us through Nancy Drew #111: The Secret at Solaire by Carolyn Keene. This episode is not sponsored by Solaire moisturizer.
Readers advisory: Here.
Footnotes: Episode 55 – Nancy Drew and the Hardy Boys
Crime Pays, Botany Doesn't on YouTube
Sweet Valley High Diaries – 35's Extended B-Story: Tofu-Glo
Coming up next: Anne of Green Gables by L. M. Montgomery.
Podcast: Play in new window | Download
Subscribe: RSS