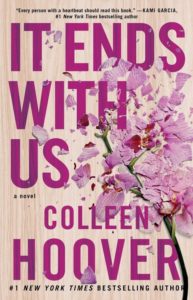 Dear Ellen, our friend Vanessa from the podcast Hot and Bothered flew in from Plethora, Maine to discuss Colleen Hoover's It Ends With Us. Millions of BookTokkers can't be wrong…can they? Listen to this episode in Boston, where everything is better.
Content warning: Domestic abuse, child abuse, sexual assault, death of a child.
Readers advisory: Here.
Footnotes: "Bestselling writer Colleen Hoover apologizes for planned coloring book based on domestic violence novel" by Issy Ronald.
Hot and Bothered: It Ends With Us
Coming up next: Corinne by Rebecca Morrow.
Podcast: Play in new window | Download
Subscribe: RSS