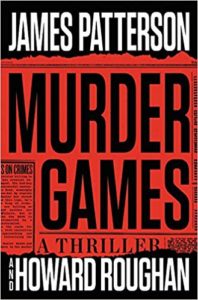 Since James Patterson & Howard Roughan went to the trouble of giving their book two different titles, we decided that we needed the power of two book podcasts to discuss it. So we had our old friends J.W. and Chris from I Don't Even Own a Television (@IDEOTVpod) join us for Murder Games aka Instinct! The best thing about this book is that it got Alan Cumming an acting job. The worst thing about this book is…well, we'll tell you at the end of the next chapter.
Readers advisory: Here.
Footnotes: Readers Advisory – Naked in Death
Episode #94 – Suzanne's Diary for Nicholas
I Don't Even Own a Television #102 – The Angel Experiment
A Suspense Novelist's Trail of Deceptions
Candy Pairing: Chris says a Hershey bar, J.W. says Ben & Jerry's Cores, Kait says Hershey's Kisses, Renata says white Skittles.
Coming up next: Shatter Me by Tahereh Mafi.
* Worst Bestsellers is a participant in the Amazon Services LLC Associates Program, an affiliate advertising program designed to provide a means for sites to earn advertising fees by advertising and linking to Amazon.com.
(But no pressure, we're also happy if you get these items from your local library or independent bookstore.)
Podcast: Play in new window | Download
Subscribe: RSS