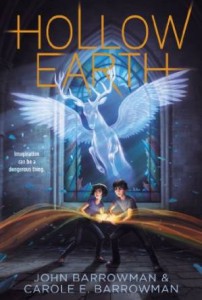 For part 2 of Nemesis Month, Kait, Renata, and returning guest Naomi read Hollow Earth by Kait's nemesis John Barrowman (and Carole Barrowman, with whom Kait has no particular beef). It's a confusing middle grade novel about twins with magic art powers, and the totally not derivative secret society that wants to control those art powers. Or destroy their art powers. Or use their art powers to somehow unleash a bunch of monsters on earth, which for some reason some people would want to do. Or whatever! Listen now to listen to us struggle through good art gone bad.
Retraction: We mistakenly took the Barrowmans to task for putting a Chicago-based painting into their London-based narrative but it turns out the painting in question is the Bathers at Asnières by Georges Seurat, which is in London's National Gallery. OUR BAD, BARROWMANS. Good job with your art research.
Readers advisory: Here.
Footnotes: John Barrowman & Daniel Boys – I Know Him So Well
Candy pairing:  Kait says chocolate coated candy gems, Naomi says saltwater taffy, Renata says sherbet lemons.
Coming up next: Killing Lincoln by Bill O'Reilly.
* Worst Bestsellers is a participant in the Amazon Services LLC Associates Program, an affiliate advertising program designed to provide a means for sites to earn advertising fees by advertising and linking to Amazon.com.
(But no pressure, we're also happy if you get these items from your local library or independent bookstore.)
Podcast: Play in new window | Download
Subscribe: RSS