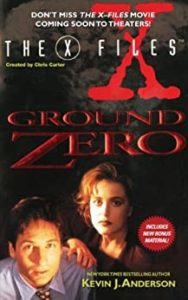 Flashback Summer 2020 draws to an end with a return to the 90s, which contains within it a return to the 1940s. Our mysterious guest M joined us to read Ground Zero by Kevin J. Anderson, an X-Files tie-in novel. Come along with us on an X-File unbound by the production costs of a weekly television show, as Mulder and Scully suddenly gain the jurisdiction to investigate nuclear ghosts in glamorous locations like Hawaii, the Marshall Islands, and New Mexico. Be advised, it's going to take awhile to download this episode over the dialup connection from your clunky government-issue laptop.
Readers advisory: Here.
Footnotes: "How the Owl Bar's Green Chile Cheeseburgers Fueled the Atom Bomb Scientists" by Robyn Lee
Candy Pairing:  Kait says Dunkaroos, M says malted milk balls, Renata says sunflower seeds.
Coming up next: The X-Files Origins: Devil's Advocate by Jonathan Maberry.
* Worst Bestsellers is a participant in the Amazon Services LLC Associates Program, an affiliate advertising program designed to provide a means for sites to earn advertising fees by advertising and linking to Amazon.com.
(But no pressure, we're also happy if you get these items from your local library or independent bookstore.)
Podcast: Play in new window | Download
Subscribe: RSS