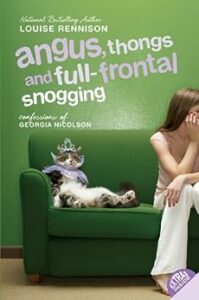 Breaking Flashback Summer News: in the title of the book Angus, Thongs, and Full-Frontal Snogging by Louise Rennison, "Angus" refers to the cat! Renata was almost as excited about this fact as she was about convincing JJ, aka S. Jae-Jones, author of Guardians of Dawn: Zhara to return as a guest for this episode! Listen to this episode while shaving your eyebrows (or while you are homebound, waiting for your eyebrows to regrow).
Readers advisory: Here.
Footnotes: Time 100 Best YA Books Of All Time: Angus, Thongs and Full-Frontal Snogging
Coming up next: Nancy Drew and the Secret at Solaire by Carolyn Keene.
Podcast: Play in new window | Download
Subscribe: RSS