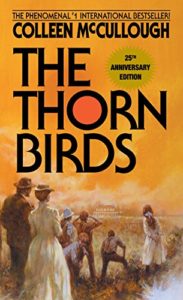 As the weather outside grows frightful, we decided to have our editor Becca join us for a trip Down Under. We read The Thorn Birds by Colleen McCullough, the 700-page epic saga of the Cleary family, who have almost as many shocking secrets as they do sheep. (And they have a lot of sheep.) Join us now in swearing fealty to Boy King!
Readers advisory: Here.
Footnotes: Colleen McCullough's 'The Thorn Birds' Is A Total Classic, And Here Are 6 Reasons You Need To Revisit It Right Now by Lindsay Harrison
'Instant vomit!' The Thorn Birds author gives her damning verdict on the iconic TV series
Review: The Thorn Birds, the musical – a tragic disaster in Swansea
Candy Pairing: Becca says a giant jawbreaker, Kait says a dirty hard candy, Renata says a sexy communion wafer.
Coming up next: Bests & Worsts of 2018 (Part 1, Children's & YA).
* Worst Bestsellers is a participant in the Amazon Services LLC Associates Program, an affiliate advertising program designed to provide a means for sites to earn advertising fees by advertising and linking to Amazon.com.
(But no pressure, we're also happy if you get these items from your local library or independent bookstore.)
Podcast: Play in new window | Download
Subscribe: RSS