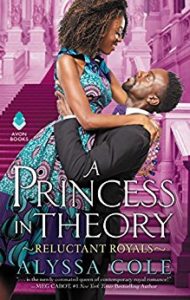 In honor of the upcoming royal wedding, we read Alyssa Cole's first Reluctant Royals romance, A Princess in Theory, with the 2016 Romance Writers Association librarian of the year, Robin Bradford. Although this book has a slightly silly premise–namely, what if spam emails insisting that you're betrothed to the prince of a small African nation were real–we loved it, just as much as Prince Thabiso loves his lost love Naledi. Join us to be reminded that love is real, even if neither Thesolo nor Wakanda are.
Readers advisory: Here.
Footnotes: Fanfiction 101
Library Journal Movers & Shakers: Robin Bradford
Candy pairing:  Kait says homemade macarons,  Renata says King Size Skittles, Robin says a 100 Grand Bar.
Coming up next: Wonder by R. J. Palacio.
* Worst Bestsellers is a participant in the Amazon Services LLC Associates Program, an affiliate advertising program designed to provide a means for sites to earn advertising fees by advertising and linking to Amazon.com.
(But no pressure, we're also happy if you get these items from your local library or independent bookstore.)
Podcast: Play in new window | Download
Subscribe: RSS