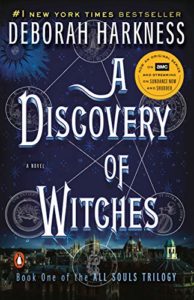 When Gina joined us to read A Discovery of Witches by Deborah Harkness, we were startled to discover that this book has way more than just witches! This book also has vampires, daemons, and plenty of #herbs. Join us for a relationship between a witch with tenure and a vampire who is 15 times older than Edward Cullen!
Readers advisory: Here.
Footnotes: Deborah Harkness' 'A Discovery of Witches' started with airport bookstores
'A Discovery of Witches': When a Vamp Loves a Wiccan
Candy Pairing: Gina says Cadbury Flake, Kait says old timey candy, Renata says #herbs.
Coming up next: Big Little Lies by Liane Moriarty.
* Worst Bestsellers is a participant in the Amazon Services LLC Associates Program, an affiliate advertising program designed to provide a means for sites to earn advertising fees by advertising and linking to Amazon.com.
(But no pressure, we're also happy if you get these items from your local library or independent bookstore.)
Podcast: Play in new window | Download
Subscribe: RSS