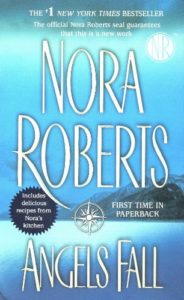 Our February observance of Nora Roberts Month continues, as we read Angels Fall with author and longtime Nora devotee Christine Ricketts. It's a quirky small-town romance between a traumatized chef and a mystery writer who hates vegetables. What could go wrong? A murder? An elaborate town-wide gaslighting campaign? A lack of fresh #herbs? All this and more, but spoilers…it ends happily ever after.
Content warning: This book and our discussion of it contains a fictional mass shooting.
Readers advisory: Here.
Footnotes: Concept of Waffles Newsletter
Candy pairing: Christine says hotel chocolates, Kait says trail mix,  Renata says #herbs.
Coming up next: Wonder by R. J. Palacio
Podcast: Play in new window | Download
Subscribe: RSS