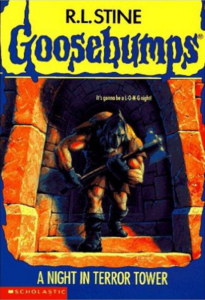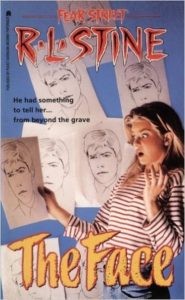 With Renata still in her Sadness Cave, Kait, Becca, and their guest
Sarah
 took advantage of her absence to talk about
Goosebumps
and 
Fear Street
. Join us on a trip back to Scholastic Book Fairs past, which is much more fun than taking a trip back to a torture chamber in vaguely medieval times. Just be careful not to DIE!!!!
Chapter Two: …of boredom, because it turns out not much happens in these books, despite the cliffhanger shoved in every five pages.
Readers advisory: Here.
Footnotes: Goosebumps television theme song
Monster Edition: a Goosebumps fanzine
Welcome to the Dead House by Rebecca Mock
Review of the Goosebumps movie
Goosebumps the movie is streaming on Netflix
A Definitive Ranking of Ever Goosebumps Cover by Creepiness
Are You Afraid of the Dark? Season One on Amazon | Later seasons on YouTube
Ross Hull (Gary on Are You Afraid of the Dark?) is a weatherman now
 Candy pairing:  Kait says Creepy Crawlers Edibles, Becca says Caramel Apple Pops, Sarah says Warheads.
Coming up next: Nancy Drew and The Hardy Boys.
* Worst Bestsellers is a participant in the Amazon Services LLC Associates Program, an affiliate advertising program designed to provide a means for sites to earn advertising fees by advertising and linking to Amazon.com.
(But no pressure, we're also happy if you get these items from your local library or independent bookstore.)
Podcast: Play in new window | Download
Subscribe: RSS